Company Profile
The Pretty House Company, LLC (PHC) was founded as a female minority owned business in 2007, we are a certified MBE/WBE company with over 15 years of collective experience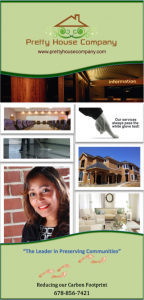 in Evironmental Cleaning and Home Improvement.  PHC will provide you with eco-friendly products and services, therefore reducing our "Carbon Footprint" for the sustainability of our environment.
Our green cleaning policy is adhered to through quality control, response to your needs and requests, accountability to problems that arise and assurance they are addressed. We stand ready to assist you to further the green cleaning program for your building.
PHC maintains a 24/7 commitment to our customers. Through an innovative organizational structure and precise scheduling, we ensure our staff are well prepared for daily cleaning routines as well as equipped to handle special requests and emergency circumstances. Additionally, our field supervisors are required to perform regular inspections as well as more specific quality audits. As a corporate standard, our management team maintains a hands-on approach to personnel and facility evaluation and supervision.
We focus on giving our best, by empowering our workers, clients and community each and every day. This people to people relationship have resulted in the success for all.
We believe in partnering with communities through our Referral Program, Internship/Apprentice Program. Share in our vision and  join us in building  more eco-friendly communities!
PHC  strive to bring quality, safety and peace of mind to your day to day cleaning beautificaiton.
Please Email or Call Us Now  at 678-856-7421 !!